Thank you for your interest in our music services! Unfortunately the Williams Duo is currently on hiatus for an undetermined length of time. We apologize for any inconvenience this may cause.
- Ben and Emily Williams
About Us
Emily Williams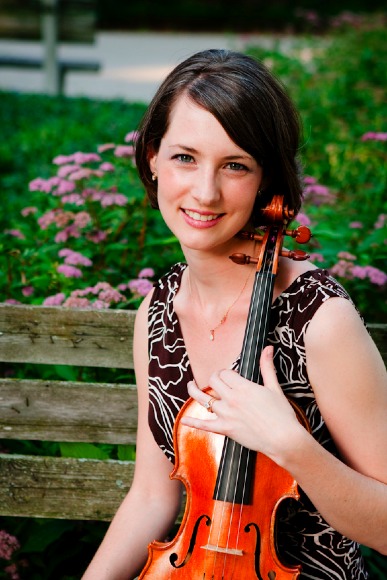 Photo by Dani Snell Photography.
Biography
Emily grew up in New York on Long Island and started playing violin as a young child at 4 years of age. She was taught the Suzuki method and attended group violin classes until beginning private lessons around 1st grade. It was not until late high school when Emily really decided she wanted to play the violin for more than just recreation. Her teacher at this time was Linda Sinanian, a truly wonderful solo and chamber violinist who has also served in several orchestras. She attributes much of her growth as a violinist to Linda's patient and thorough teaching. She prepared Emily to be accepted at Cedarville University in Ohio, in the Fall of 2000. At Cedarville, Emily studied with Stacey Wooley, a member of the Cincinnati Symphony. Through the dedicated teachers at the University, she gained the knowledge and tools to continue her performance study at the University of Akron. Alan Bodman, concert master of the Akron Symphony Orchestra, accepted Emily as a student in 2005. Through his very organized and attentive coaching, she was able to improve as a violinist more than she could have ever thought possible in 2 years. Emily graduated with my Master of Music Degree in Violin Performance in 2007.
Emily and Ben currently live in Clinton, Mississippi where Emily runs a violin and viola studio out of their home, performs with the Mississippi Symphony Orchestra located in downtown Jackson, and teaches adjunct violin at Mississippi College.
Aside from her musical activities, Emily enjoys cooking, baking, reading, swimming, supporting local shelters and animal care groups, ballroom dancing, chatting at coffee shops with Ben, cuddling with their two cats, and visiting with family and friends. She is very involved in their local church as a choir member, attends a weekly women's Bible study and teaches a Sunday School class with Ben. Emily finds great pleasure in serving and worshipping her Lord and Savior, Jesus Christ.
Resume
Professional Experience
2010–present
Mississippi Symphony Orchestra Jackson Public Schools Program
Elementary Strings Teacher at St. Anthony Catholic School
2010–present
Mississippi Symphony Orchestra
Violin II
2009–2010
Central Ohio String Quartet
Violinist
2007–present
Williams Duo
Violinist
2007–2010
Richmond Symphony Orchestra
Violin II
2007–present
Emily Williams Violin Studio
Owner, Violin & Viola Instructor
2008–2009
Prestige Music Studios
Suzuki and Traditional Violin and Piano Instructor
2008
Ohio Valley Symphony
Violin Substitue
2008
Springfield Symphony
Violin Substitue
2008
Westerville Symphony
Violin Substitue
2007–2008
Harmony Studios
Violin Instructor
2005–2007
The University of Akron
Graduate Teaching Assistant
2005
Cedarville University
Chapel Music Secretary
2004
Smithtown Center for the Performing Arts
Violinist
2003–2004
Kincaid's is Music
Substitute Violin Instructor for Katie Roy
2002–2003
Usdan Center for Creative and Performing Arts
Orchestra Work Study Staff
Education
2007
The University of Akron
MM in Violin Performance, Principle Teacher Alan Bodman
2004
Cedarville University
BA in Music with Emphasis in Violin Performance, Principal Teacher Stacey Woolley
1994–2000
Linda Sinanian, DMA, State University of New York at Stony Brook
Private Violin Instruction
Activities
2009
Neo Con Brio Chamber Music Festival
Master Classes by Peter Slowik, Stephen Clapp and Kirsten Doctor
2008–2010
The Ohio State Online Music Journal
Member of Editorial Board
2004–2005
Clarion String Quartet of Cedarville University
Second Violinist
2004–2005
Maud Powell Summer Music Festival
2004
Stony Brook Summer Music Festival
2001–2004
Cedarville University Orchestra
Principal Second Violinist
2003–2004
Cedarville University String Octet
Member
2000
Shoreham Wading River High School Orchestra
Concert Master, Soloist performing Haydn Violin Concerto in C Major
1999–2000
Brookhaven Youth Orchestra, Steve Fayette, Director
Member
2000–2003
Creative Ministries Theatre
Pit Orchestra Member
2001
East End Chamber Ensembles
Handel's Messiah Performance, Member
Additional Performances
Church Services (1995–present)
Wedding Ceremonies (2000–present)
Honors and Awards
Pi Kappa Lambda, Theta Chi Chapter
Member
The University of Akron
Graduate Assistantship
Cedarville University
Founders Scholarship
Cedarville University
Music Grant
Cedarville University
Faculty Scholarhip
Cedarville University
Academic Scholarhip
Stony Brook Summer Music Festival
Scholarship
Ralph Giallorenzo Humanitarian Award
Shoreham Wading River Orchestra Award