Thank you for your interest in our music services! Unfortunately the Williams Duo is currently on hiatus for an undetermined length of time. We apologize for any inconvenience this may cause.
- Ben and Emily Williams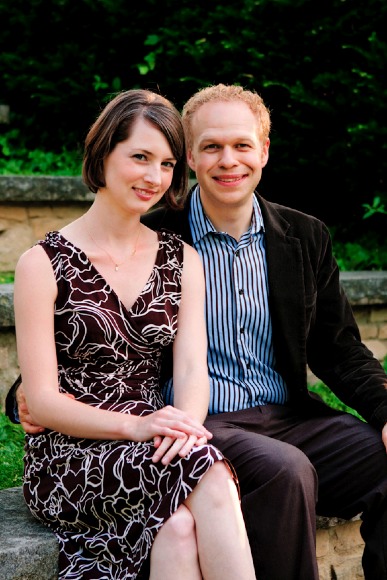 Photo by Dani Snell Photography.
Frequently Asked Questions
Please click on a question. If you can not find the info you need, please contact us.
Who is the Williams Duo?
We are a husband and wife team who provide violin and piano/organ music for weddings and events in the Clinton/Jackson, Mississippi Metro Area. We are both professional musicians who make our living playing and teaching. For more information about us including our education and experience please visit the 'About Us' page!
How do I reserve a date? Do you require a deposit?
Your date will be reserved upon receipt of a signed copy of our contract and a $50 deposit. Please contact us and we would be happy to speak with you and get a contract made up for your event!
How much do you charge?
We charge a flat rate for wedding ceremonies and can be hired by the hour for cocktail hours, receptions, and any other type of event including parties, funerals, graduations, business luncheons/dinners, etc. We also offer wedding packages, which include combinations of our wedding services in varying price ranges. Please visit our services page for more complete pricing details and contact us for specific pricing regarding your event.
If you already have an event listed on your calendar on the day of my event does this mean you aren't available and I shouldn't contact you?
No! The events listed on our calendar may not include both of us, or may not conflict with the time of your event. Please contact us and we would be happy to give you specifics on our availability.
What if only one of you is available on the date of my event, but I wanted to hire both of you?
Usually we are able to find substitute musicians if one of us is unavailable on the date of your event. We will let you know up front who this person will be before we ask you to sign the contract, and you can be assured that the substitute will be a professional musician.
What does the Williams Duo wear to their events?
We always dress appropriately and professionally for our events. If you prefer all black attire, or would like us to coordinate with your color scheme please let us know as we are happy to accommodate special requests!
Do you only play classical music?
No, we play all kinds of music! We have music samples from our classical, jazz, pop and religious music repertoire on our homepage. Please take a listen to our audio samples. We would also be happy to speak with you regarding what musical style would be best for your event or any other type of music that you had in mind!
What if you don't have the specific music I request for my event?
If you have specific songs or pieces you would like us to perform at your event and we do not currently have the music we would be happy to see about acquiring this for you. Depending on the specific selection and its availability there may or may not be an extra fee. We would be happy to speak to you about the specifics of your request and give you more detailed information.
Can you arrange or write music specifically for my event?
Yes! We are able to arrange whatever piece you need for any ensemble you request, or compose a piece especially for you! The price for this service will vary depending on the request, so please contact us and we would be happy to provide more detailed information for you.
Do you travel outside the Clinton, MS area?
Yes! We would be happy to travel to your event. However, a travel fee will be assessed for events more than 25 miles from our location. Please view our traveling fees on our 'Services' page for more information.
Will you play with or accompany other musicians?
Yes. We can play with or accompany other musicians at your event. Rehearsal is required with additional musicians.
What if I want additional instruments other than just violin and piano/organ?
As long as one of the members of the Williams Duo will be performaing, we would be happy to assist you in finding additional musicians. There will be a small fee per added musician to compensate us for our time and coordination of these musicians.
My event location does not have a piano available or is outside, can I still have both of you play?
Yes! We have a portable keyboard we bring to event locations that do not have a piano on the premises. All we ask is that you make sure there is a functioning outlet we can plug in to.
Are you sure the violin will be loud enough for everyone to hear?
If your event is inside there is usually not a problem hearing the violin. If your event is outside you may choose to amplify the violin. Whatever your venue, we would be happy to help you make the decision. We have all the necessary equipment to amplify the violin in a tasteful manner, so don't let hearing the violin be a concern, we will make it work for you!
My event is outside. What if it rains the day of my event?
If your event is outside we highly recommend you have a sheltered place for us to play and an inside location to move the event to should the weather be uncooperative. Our equipment and instruments are very expensive and we will not put them in danger due to rain or other in climate weather conditions. Please view our weather policies on our 'Services' page for more information.
I'm on a tight budget, would you be willing to play for less?
We understand that you have a set budget for your event and want to save as much money as possible. However, we charge the least amount possible for the services we provide to keep things affordable to you. We are professional musicians and this is how we make our living. We can't make special price reductions just for you. If you can't afford both of us perhaps you should consider just having one of us play. We would be happy to help you with this decision if you are unsure which instrument would best be suited to your event!
What if I sign a contract but need to change the date or time of my event?
We are happy to accommodate any changes in the date or time of your event providing we are available. Please see our policies located on our 'Services' page for more information.
What if I have a question that's not addressed on this page?
We would be happy to answer any questions you might have! Contacting us is easy, click contact us, fill out the requested information, and submit the online form! You can also email us directly at events@playviolinmusic.com, or call us at 330-703-7436 and ask for Emily. We look forward to hearing from you soon!